THE FORTH BRIDGE ABSEIL
165ft Abseil from Scotland's best man made wonder!
SAS-style free-fall onto the beach below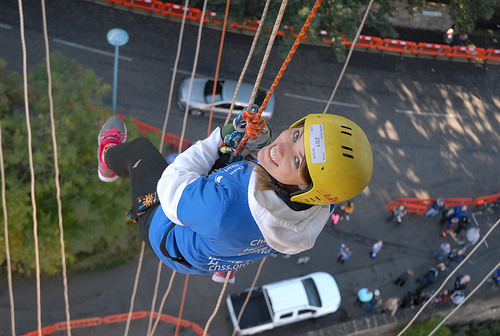 The Ultimate Forth Bridge Abseil Experience
This unique challenge allows you to abseil (free-fall style, like the S.A.S.!) from the iconic Forth Rail Bridge – Scotland's Best Loved Landmark, and a UNESCO World Heritage Site. It's a 165ft drop with a soft landing on the sandy beach below – the ultimate Forth Bridge abseil experience!
Register for 2019
Abseil For a Reason
Our amazing supporters have, to date, raised over £3million for Chest Heart & Stroke Scotland by taking part in this event! Don't miss out – register now to take part in the Forth Rail Bridge Abseil on 9th June or 6th October 2019 and help us care for the half a million people suffering from chest, heart and stroke conditions in Scotland.
Find out how the money raised at the Ultimate Abseil makes a huge difference to the lives of those in Scotland affected by chest, heart & stroke conditions – have a look at our 'Abseil for a Reason' fact-sheet.
Watch Heather's Story
For more information
If you would like to know more about the Forth Bridge Abseil, have a look at the About and Abseil FAQ pages