Lung (Pulmonary) Rehabilitation
What is Lung Rehab?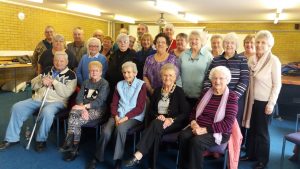 Lung Rehab (or 'Pulmonary Rehabilitation') is a free programme of exercise and information provided by the NHS for people living with a long term Lung condition such as COPD. It helps by improving fitness and strength as well as supporting learning to help control symptoms such as breathlessness. Through regular group activities, Rehab builds people's confidence in their ability to get active and helps their overall health and wellbeing.
Lung Rehab is proven to improve the lives of people living with COPD and other Lung conditions such as pulmonary fibrosis, stable asthma and bronchiectasis.  Referrals are usually made by a GP or other health professional, and the programmes last for a fixed period of weeks.
How you can join a Lung Rehab course
Read our publication: Frequently Asked Questions on Pulmonary Rehabilitation (PDF)
Health benefits
Lung Rehab has been proven to:
Reduce breathlessness
Increase fitness
Help people to be more active.
Improve overall quality of life
Help people to manage their condition better.
Cost benefits
In 2015/16 there were over 19,000 stays in hospital due to COPD in Scotland.  People with COPD stayed in hospital for over 129,000 days throughout 2015/16.
The average cost for somebody to stay in hospital is over £600 per day.  Lung Rehab supports people to live as independently as they can and self-manage their condition. It is highly cost effective compared with medical interventions used to treat COPD.
For people with COPD, there is evidence that Lung Rehab can:
Reduce the number of visits to health professionals in the community
Reduce hospital admissions.
Reduce the length time people spend in hospital
The problem
Chest Heart & Stroke Scotland recently produced a report about Lung Rehab across Scotland.  This was done on behalf of the Scottish Pulmonary Rehabilitation Action Group.  The report provides information on 11 out of 14 regional health boards' Lung Rehab services.  Key areas of concern were identified:
Not everywhere in Scotland has Lung Rehab available.
Approximately 9,000 places per year are available on Lung Rehab programmes. This falls well short of the estimated 69,000 which are needed. Many people who would benefit from Lung Rehab are not being referred by their Health Professional.
Many people do not take up the offer as they are not told how important it is, or don't think they'll be able to exercise.
Many people find it difficult to keep attending without additional support.
If people don't continue to exercise, or be physically active, after attending Lung Rehab, the benefits will start to drop off after six to twelve months. The only way to continue to enjoy the benefits is to keep exercising.
CHSS & SPRAG Pulmonary Rehab survey 2017 (PDF)
Chest Heart & Stroke Scotland is campaigning for Scotland to have:
Equal access to Lung Rehab across all areas
Better awareness amongst health professionals and the public about the importance of this essential and effective treatment
More opportunities to attend local exercise groups to maintain the benefits of Rehab programmes, with suitable training for exercise instructors
We can help you: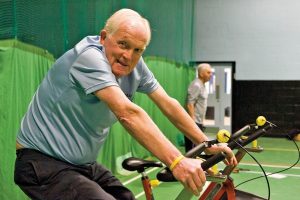 We help people to stay active and maintain the benefits of attending Lung Rehab programmes. We have groups across Scotland that support people to stay active after Lung Rehab.  Find a group near you now.  We provide free advice and information on Lung (Pulmonary) Rehab, physical activity, and how to live with a Lung condition:
Order our publications by calling our free Advice Line on 0808 801 0899
Visit My Lungs My Life to find out more about living with COPD or Asthma, or caring for a child with Asthma.
Ask the nurse by calling our free Advice Line on 0808 801 0899. Our nurses provide a supportive listening ear, details of local support services, and confidential information and advice about all aspects of living with chest, heart and stroke conditions.
We also help drive improvement in Lung Rehab across Scotland through the Scottish Pulmonary Rehabilitation Action Group (SPRAG), and support the group through networking and audit. SPRAG has a network of regional representatives who work to share best practice and raise the profile of Lung Rehab, aiming to help people breathe better and live better.