Chest Heart & Stroke Scotland call on Scottish Government to Bring Back Thrombectomy
In 2017, a procedure called thrombectomy was withdrawn from Scottish hospitals. That year, only 13 people received this life-changing treatment in Scotland – but as many as 600 people would have benefited.
Thrombectomy is a highly specialised procedure that involves physically removing blood clots from the brain. It's not suitable for everyone who has a stroke, but it can help reduce disability and dependency. Unlike in Scotland, it's available in the much of the UK and across Europe.We are campaigning for the Scottish Government to Bring Back Thrombectomy and make sure this procedure is available again in 2019.
So far we've had 4,147 people sign our petition, and stroke survivor Robert Baldock handed those names to the Health Secretary Jeane Freeman in January. Stroke consultants and MSPs from across the political parties support us.
The Scottish Government has confirmed it wants a thrombectomy service in Scotland – some 4 years after it was proven to be effective. But things continue to move slowly, and with every month that passes an estimated 50 people are missing out.
To help us make a difference, please sign the petition to Bring Back Thrombectomy.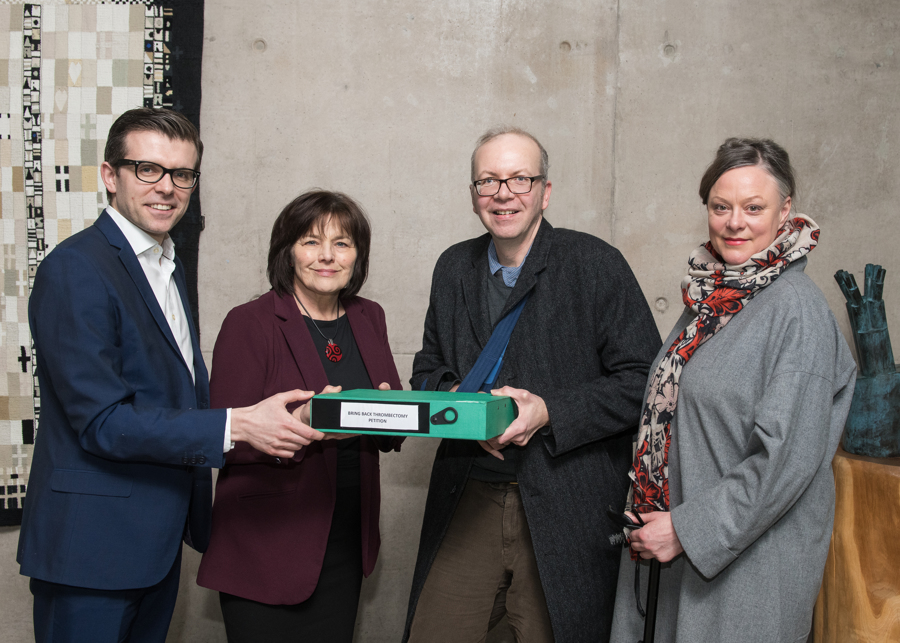 Thrombectomy campaigner Robert Baldock handing the petition to Health Secretary Jeane Freeman
Robert Baldock, 53 is a digital solutions designer from East Lothian.  He suffered a severe stroke in 2017 which has left him with significant communication difficulties.  Thrombectomy became Robert's only chance of survival.  He said:
"All I can remember of that morning is the ambulance crew trying to manoeuvre me down the narrow stairs of the cottage with great difficulty. I couldn't move or speak. A scan revealed a large clot had caused my stroke. Normally you would have a clot busting drug to dissolve the clot and restore blood flow to the brain. However I was told this treatment wasn't going to be effective for me. My carer Sharon and friends who were with me were told to prepare for the worst. Things didn't look good at all.
"My only option was a thrombectomy. Thankfully, I was able to have the thrombectomy that saved my life. For me there was no other alternative. I am shocked to hear that I was one in only 13 people who received a thrombectomy in Scotland in 2017 when 600 people that year could have been eligible for the same treatment that I had.
"Recovery has been slow and I have been left with severe communication difficulties. I spent 10 weeks in hospital and a further 5 months in rehabilitation. Looking back my scariest moment was waiting to find out if I was going to be able to receive a life-saving thrombectomy and the stark possibility of not surviving if not. Since my stroke everything has changed but I survived and I have learnt to appreciate and savour what I have."
Find out more about Thrombolysis and Thrombectomy
Follow us on Facebook and Twitter and tell us what you think:
Facebook
Twitter