Media Releases
>
Forth One presenter joins charities to fight for Scotland's health and wellbeing
Forth One presenter joins charities to fight for Scotland's health and wellbeing
Charities in Scotland have joined Chest Heart & Stroke Scotland (CHSS) and Forth1 radio presenter, Mark Martin, to unite in their missions to improve Scotland's health and wellbeing.
The charities gathered under the iconic Forth Rail Bridge where their supporters will all take part in CHSS's Forth Rail Bridge abseil on 15th October 2017, raising vital funds for Scotland's essential causes.
Rachel Morrison, CHSS Events Officer, said, "We are delighted to have Mark Martin from Forth 1 taking part in the abseil and helping us bring these prominent Scottish charities together."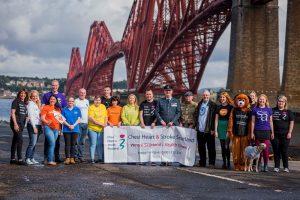 Mark Martin, who is abseiling for Radio Forth Cash for Kids, said, "Having been down at the bridge with the charities - it really hit home the enormity of the structure and what I've actually signed-up for! I'll have an intrepid team of listeners with me, and we're all doing it for disadvantaged children in Edinburgh, The Lothians and Fife.
"I'm really excited to see the new 3 bridge view from 165 feet up, and be part of this iconic event for such a great cause. It's going to be such an adrenaline rush and I can't wait."
Chest Heart & Stroke Scotland has raised over £1million to date through their abseil event to support people living in Scotland as they get their lives back on track following a stroke, or diagnosis of a chest or heart condition.
Access to the Forth Rail Bridge is only possible due to the generosity of Network Rail and Balfour Beatty, and CHSS are delighted to work with them so you can check this off your bucket list!
To make sure you don't miss out sign-up now at www.abseil.scot